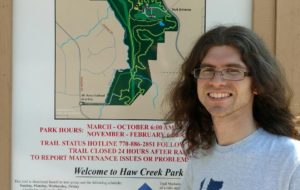 I am currently serving the citizens of Sandy Springs, Georgia as a GIS Analyst. I specialize in supporting the Public Works departments (Field Services, Stormwater, Utilities, and more) through asset management administration, web applications, mapping, and GIS analysis. I enjoy cartography and am always looking to learn more about spatial technologies and design. I am employed through InterDev, LLC a managed IT and security company.
I formally worked at Foryth County, Georgia (GIS Analyst) and the City of Kettering, Ohio (GIS Technician) providing editing, mapping, and GIS analysis. I maintained GIS data and fulfilled requests from both the public and other government agencies.
I also worked for the Greater Dayton RTA in the Certification Center for paratransit service under the Americans with Disabilities Act (ADA).
I have completed the Master of Public Administration program at Wright State University with Geographic Information Systems certification in April, 2013. I am experienced in government operations, research and analysis, administration, confidentiality (FERPA and HIPAA), and communicating with the public.
I am proficient in ESRI ArcGIS 10.x suite demonstrated by work experience and applied projects. I am skilled in mapping social and economic data, database management, thematic mapping, and sound cartographic design. I enjoy GIS data processing and analysis in addition to remote sensing techniques of image interpretation and processing.
I enjoy working on research and applied community projects. In my work as a Graduate Research Assistant, I produced a Community Vulnerability Index for Clark County Combined Health District, analyzed survey results for community health assessments, and projected educational attainment rates for Learn to Earn Dayton. I am proficient demographic systems including U.S. Census / American Community Survey, Integrated Postsecondary Education Data System (IPEDS), and Economic Modeling Specialists Intl (EMSI). I developed models based on economic and social factors, administer surveys, and prepared final reports for both oral and written presentation to government and non-profit agencies.