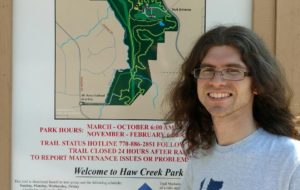 I am currently serving the citizens of Sandy Springs, Georgia, managing the enterprise GIS as a Team Lead, GIS Analyst II:
Emergency Management and Public Works (Field Services, Stormwater, Utilities, and more)
Asset management administration
Enterprise database administration
Web applications
Mapping, and GIS analysis
I enjoy cartography and am always looking to learn more about spatial technologies and design. For example, I am currently pursuing certification as a UAS commercial drone pilot under FAA Part 107 rules, expecting to test in Spring 2019. I am employed through InterDev, LLC a managed IT, security, and GIS company providing GIS to many local governments in the Atlanta metropolitan area. I foster a collaborative environment for our team while supervising a GIS Analyst and GIS Technician. I am a certified Geographic Information Systems Professional (GISP)
I formally worked at Forsyth County, Georgia (GIS Analyst) and the City of Kettering, Ohio (GIS Technician) providing editing, mapping, and GIS analysis. I maintained GIS data and fulfilled requests from both the public and other government agencies.
I also worked for the Greater Dayton RTA in the Certification Center for paratransit service under the Americans with Disabilities Act (ADA).
I have completed the Master of Public Administration program at Wright State University with Geographic Information Systems certification in April, 2013. I am experienced in government operations, research and analysis, administration, confidentiality (FERPA and HIPAA), and communicating with the public.
I am proficient in the full enterprise Esri ArcGIS suite of products including database and server administration, ArcGIS Online administration of over 200 active users, Open Data, field collection, desktop, mobile, and web platforms as demonstrated by my work experience and applied projects. I am skilled in mapping social and economic data, database management, thematic mapping, and sound cartographic design. I enjoy GIS data processing and analysis in addition to remote sensing techniques of image interpretation and processing.
I enjoy working on research and applied community projects. In my work as a Graduate Research Assistant, I produced a Community Vulnerability Index for Clark County Combined Health District, analyzed survey results for community health assessments, and projected educational attainment rates for Learn to Earn Dayton. I am proficient demographic systems including U.S. Census / American Community Survey, Integrated Postsecondary Education Data System (IPEDS), and Economic Modeling Specialists Intl (EMSI). I developed models based on economic and social factors, administer surveys, and prepared final reports for both oral and written presentation to government and non-profit agencies.